---
Case Study
How we used eDNA to assess the effectiveness of carp removal efforts
---
Invasive Species: Common carp
---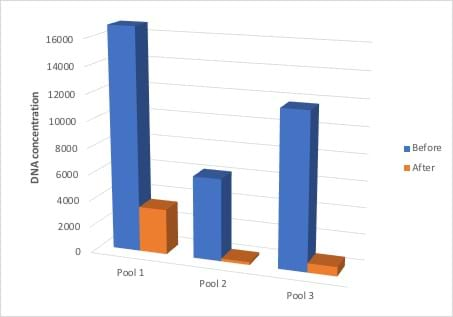 Common carp (Cyprus carpio) – a highly invasive and widespread fish
Common carp (Cyprus carpio) is a highly invasive fish that is widespread throughout the Murray-Darling Basin and causes significant habitat degradation. In some waterways, carp comprise up to 80% of the fish biomass! Current control methods are expensive, laborious and may have limited effectiveness due to very high fecundity of carp and migration of fish from adjacent areas.
Greg Fletcher, Planning & Policy Officer Water noted "Wimmera CMA has been interested in better understanding carp distribution and behaviour in the region in order to implement feasible carp control actions."
Work by Austral had shown that removal of carp through electrofishing can be most effective in isolated waterbodies such as small lakes, off-stream wetlands, or isolated pools along a river as it dries up. Austral set out to confirm this in several pools in the Wimmera Catchment. Prior research undertaken by Austral and EnviroDNA has demonstrated a strong correlation between eDNA concentration and carp abundance. Water samples for carp eDNA analysis were taken in three pools immediately before and approximately 1 week after a single removal effort in May 2019. Post-removal eDNA concentration was reduced by 80-97% across the pools. While this doesn't necessarily reflect an equivalent reduction in carp numbers, the results do demonstrate:
Removal efforts substantially reduced carp abundance.
At least some carp remained in all pools.
Such information can be valuable to identify high carp abundance areas to target control strategies, optimise removal efforts (i.e. minimum effort required to reduce carp abundance below a set threshold), or due to eDNA's high sensitivity to detect species at low abundance to guide when to persist or stop total eradication efforts.