---
Case Study
How we used eDNA in the non-invasive detection of the elusive southern brush-tailed rock-wallaby.
---
Native Species (Threatened): Brush-tailed rock-wallaby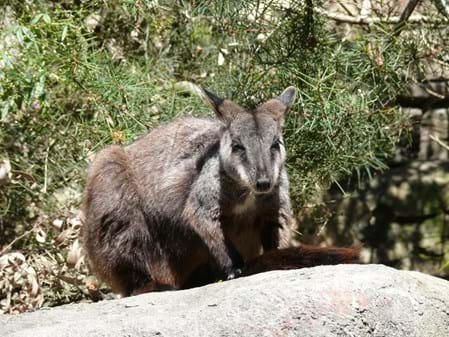 The southern brush-tailed rock-wallaby is listed as critically endangered in Victoria, with only a single small population found at Little River Gorge in far east Gippsland. This is some of the most rugged country in Victoria, and presents unique challenges for monitoring and management of this marsupial population. Foxes are the number one threat and ongoing fox baiting programs are undertaken by the State Government to prevent the southern brush-tailed rock-wallaby from going extinct.
We worked with the State Government in Victoria (Department of Environment, Land, Water and Planning) to monitor this population by undertaking eDNA analyses of scats left by rock wallabies in the region. Scats were picked up by staff during baiting and camera trap surveys and sent to us for analyses. These eDNA based analyses enabled us to identify individual rock wallabies from a single scat, and provided information on the genetic health of the population without having to undertake expensive and invasive live-trapping surveys.
This eDNA approach can be applied to any animal scat, and is particularly useful for monitoring marsupial populations non-invasively.