---
Case Study
How we used eDNA to assess the current distribution and spread of invasive Mozambique tilapia in the Fitzroy Natural Resource Management (NRM) region.
---
Invasive Species: Mozambique Tilapia
---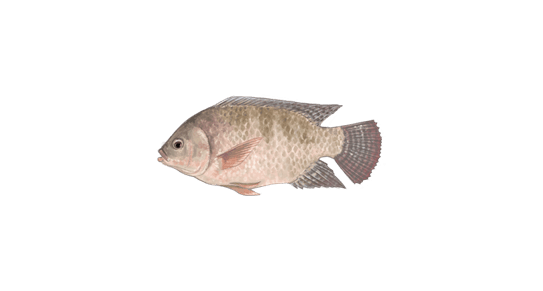 Mozambique tilapia (Oreochromis mossambicus) – a highly invasive fish
Mozambique tilapia is listed in the top 100 of the world's most invasive species and historically were imported to be kept as aquarium fish. The species was illegally introduced into Australian waterways in the 1970s and has established populations in tropical and subtropical Australia. The species poses a threat to native fish and habitats through competition for food and space, predation and aggressive behaviour, and damaging aquatic habitats through nest building.
Monitoring the spread of tilapia in the Fitzroy Basin using eDNA
Fitzroy Basin Association Inc. (FBA) chose eDNA as an effective, low impact and easy to sample method for detecting tilapia in their 156,700 square kilometre catchment area. Members of the FBA team were trained in EnviroDNA's water sampling protocol by eDNA expert and wildlife ecologist, Josh Griffiths. This empowered the team to undertake their own eDNA water sampling, thus reducing costs for eDNA projects. From EnviroDNA's perspective it was fantastic to meet and work closely with the FBA team and add them to our growing network of eDNA sampling experts!
The results from the project allowed FBA to gain an understanding of where tilapia was present within the waterways of the Fitzroy NRM region. The results indicated that tilapia had not moved into any of the river systems that were tested and considered potential areas of incursion. Along with previous survey efforts, this work added evidence to indicate that tilapia is mostly restricted to the lower Fitzroy River at this stage.
This project is an example of how eDNA aids in the monitoring of invasion front lines. The sensitivity of eDNA, along with ongoing sampling, can increase chances of early detection of invasive species to support more effective management actions.
"eDNA sampling training has enabled Fitzroy Basin Association Inc. (FBA) to conduct comprehensive and cost-efficient water sampling. The eDNA water sampling procedure is quick and simple making it easy for FBA to care for their 156,700 square kilometre catchment area. The training provided by EnviroDNA staff was professional, comprehensive and was followed by continued support." Joseph Stapleton, FBA Project Officer.