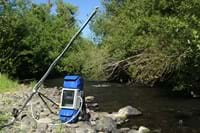 Sampling with Smith-Root Inc.
EnviroDNA distributes Smith-Root Inc. eDNA sampling products in Australia and New Zealand. Smith-Root products are supported by science, designed by a team of scientists and engineers that provide the best possible sampling systems on the market. For more information about Smith-Root Inc, visit their website here.
Water samplers and poles
Smith-Root Inc. have designed water sampling system that enable continuous, mobile sampling. These are pupose-built for eDNA sampling and generate spatially-integrated samples for maximal species detection. Handheld and backpack models are available as well as extendable sampling pole accessories.
GPS track for each mobile sampling transect
ml/m output shows filtered volume per meter distance
Triplicate sampling with the Smith-Root Trident pole
eDNA filters
Smith-Root Inc. filters are available in multiple pore sizes for both regular and self-preserving filter types. These filters help improve sampling efficiency and minimize risk of contamination with a published method.
Reduce contamination. Alternate sampling methods require removal of the filter in the field for preservation. Any handling method will increase the chance of contamination. With the self-preserving filter housing, the filter is never handled until safely back in the laboratory giving you increased confidence in your research.
Higher DNA yields as research demonstrated almost twice the yield of DNA per liter when using self-preserving filter housings compared to the standard methods using ethanol. Easier to use and improved science!
No more ethanol