10 May 2021
Rethinking python detection using eDNA
Optimising a sensitive and time-saving Pilbara Olive Python test
---
The Pilbara Olive Python (Liasis olivaceus barroni) is an elusive species that is restricted to the Pilbara region of Western Australia. Ranging from olive green to brown, they are experts at camouflage. Combined with their nocturnal nature as well as the remote and vast landscape they inhabit, they can be an extremely difficult species to detect in the wild using visual and trapping surveys.
Pilbara Olive Pythons have been listed as Vulnerable due to reduction in habitat, declining numbers of prey species and low reproduction rate. This species is also currently under threat from bushfire, predation by foxes and mining infrastructure development.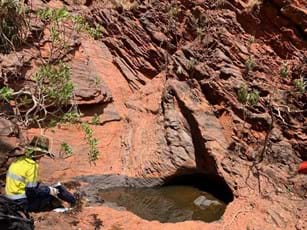 Why apply eDNA for Pilbara Olive Python detection?
Pilbara Olive Pythons are ambush predators that utilise waterholes scattered throughout the dry landscape to hunt for prey such as ducks, rock wallabies and fruit bats. As skilled swimmers, they can strike prey whilst submerged in water. These waterholes are targeted traditionally for visual monitoring. However, visual capture techniques are difficult due to their elusive nature and low population densities. It is now these waterholes that present an ideal opportunity for utilising eDNA detection methods.
Experimentation to ensure the effectiveness of the eDNA test
EnviroDNA optimised a Pilbara Olive Python eDNA test in our laboratory using museum specimens as DNA reference material. While we could confirm that this test would detect Pilbara Olive Python DNA in a given water sample, it has been difficult to validate this test in a field situation...until now! Working closely with an innovative environmental consultancy group, Spectrum Ecology, looking to investigate the current distribution of the Pilbara Olive Python, the team set up a control experiment with the help of a captured Pilbara Olive Python.
We know that eDNA degrades in the environment when exposed to variables such as high temperatures, oxygen, moisture and UV radiation. So not only did we want to ensure the eDNA test detected the Pilbara Olive Python, but that it will continue to do so for a period of time when the individual is no longer present.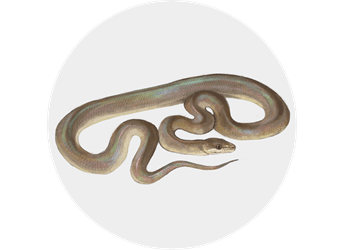 The captured python was safely submerged in water for 20 minutes with water samples collected before (negative control) and during the python being present. After the python was removed from the tank, further water samples were taken at 1, 2 and 24 hour intervals.

Our eDNA test was able to detect the species up to 24 hours after the snake had been removed with high sensitivity. This means our eDNA test has the potential to detect Pilbara Olive Pythons in waterholes up to at least a day (and probably a little longer) after the python has moved on, increasing the temporal scope of detection over traditional surveys.
eDNA tests for terrestrial, elusive or threatened species
The Pilbara Olive Python test demonstrates how eDNA can innovate species detection. If you are having difficulty detecting terrestrial, elusive or threatened species, eDNA may be an efficient tool to help capture the wildlife data you need.


Acknowledgements
This project was undertaken in collaboration with Spectrum Ecology
---
---
Got an innovative idea for applying eDNA?