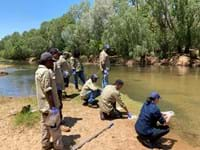 ---
Traditional Owner eDNA Training & Certification Program
---
Our Traditional Owner eDNA Training & Certification Program provides Traditional Owners, as the waterway managers and environmental water holders on Country, with the skills to undertake eDNA water sampling on Country. eDNA technology is a culturally and ecologically sensitive, accurate and safe method for surveying biodiversity on land and in waterways. EnviroDNA recognises the important role that eDNA has in advocating for biodiversity and biocultural surveys to be undertaken on Country by Traditional Owners. Participants will gain valuable skills in eDNA biodiversity survey techniques and learn how to interpret eDNA data to help understand species distributions and inform management and decision making on Country. Participants will then be able to overlay traditional knowledge to the eDNA data, placing an invaluable cultural lens on scientific data.
How can eDNA be used to survey on Country?
Traditional Owners will be equipped with the knowledge and skills to use eDNA to undertake biodiversity survey and monitoring programs on Country that help to:
Establish baseline biodiversity data to understand the distribution of species and measure river and wetland health
Conduct ongoing biodiversity monitoring to detect change over time, before and after disturbances (e.g., fire) and management interventions
Include this monitoring tool within Aboriginal Waterway Assessments to inform management decisions, such as cultural flows, and ongoing monitoring
---
We offer a Traditional Owner eDNA Training & Certification Program that provides Traditional Owners with the background, knowledge, and skills to undertake eDNA water sampling on Country and interpret eDNA data to learn about species distribution. This training program is tailored to suit each group's needs, including multi-day on Country field sessions and shorter, hybrid-online programs. For full details about how this program can be undertaken in partnership, please download the program brochure below.