EnviroDNA launched in 2016 to pioneer the delivery of eDNA services to industry. Today, we operate as leaders in research and application, monitoring aquatic and terrestrial ecosystems across Australia and abroad. We are science-driven professionals delivering comprehensive data and tailored solutions in areas such as conservation, biosecurity, impact assessments, and research.
---
EnviroDNA was established as an independent entity by co-founders Dr Paul Umina and Dr Andrew Weeks, spun out of sister-company Cesar Australia after several years of research into aquatic eDNA methods. Umina and Weeks understood the clear power of eDNA as a tool for improving wildlife and biodiversity monitoring and management decisions. With Managing Director, Helen Barclay, and a growing team of molecular science, data science, and service delivery experts, they now steward EnviroDNA to advance the accessibility of science and biodiversity data to industry and community.
---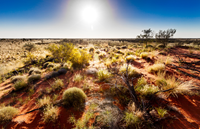 Breakthrough eDNA technology
Why use eDNA?
EnviroDNA has developed innovative approaches that enable the detection of species using eDNA. eDNA offers an unprecedented opportunity for monitoring native and invasive species, as well as broad-scale biodiversity assessments. The benefits of using this technology over traditional monitoring include:
Detect species earlier to allow for more effective management outcomes
Increase sensitivity of monitoring by detecting species that are low in abundance or cryptic
Detect species in areas where there may be logistical limitations for traditional methods

Apply broad scale surveying and more easily generate baseline data

Reduce costs of detection and monitoring (e.g., no special permits or highly trained people are required for eDNA sampling)

eDNA sampling for species can be conducted in rain, hail or shine!

Foster community engagement through citizen science projects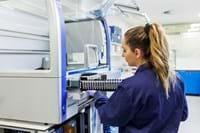 Your samples are processed in state-of-the-art facilities
---
Facilities
Our purpose-built laboratories are designed to the highest standard for delivering eDNA testing services. They are equipped with DNA sequencing machines, contamination free zones and airflow control, enabling us to process samples with exceptional ease, efficiency, and quality assurance. We have invested in this location with our sister-company Cesar Australia to ensure the highest confidence in our methods for our clients.
As we work closely with DNA, we have constructed laboratories and workflow protocols that aim to significantly minimise contamination risk. Therefore, we have dedicated and controlled lab areas to accommodate the different stages of sample processing. PCR-grade laminar flow hoods have been set up in each of the individual labs, these function as ventilation systems with UV lamps to allow for contamination free work areas, critical to eDNA processing.
---
The laboratories
The DNA-free lab - allows for sterile set up of all our reagents and PCR mixtures. No samples are allowed in this lab and there are special working conditions, cleaning routines and air flow requirements to maintain the DNA-free area.
The Rare DNA Lab - offers very minimal contamination to external DNA sources. This is where our clients eDNA filters samples are initially extracted.
The DNA Lab - where all tissue samples and other high concentration DNA samples are handled. It's home to large fridges and freezers used to store samples, as well as DNA extraction robotic equipment.
The PCR Lab - holds all our machines that amplify and detect DNA, such as PCR, qPCR, and Illumina sequencing machines. This is where almost all our eDNA results are generated.