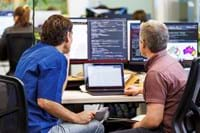 ---
We do more than collect and analyse environmental samples. We use cutting edge-tools to summarise, analyse, and visualise eDNA data to help clients get the most value out of their eDNA data. Take a look through our data solutions below to discover the various ways we make this possible.
Interactive spatial dashboards
eDNA data is inherently spatial, whether we are determining which locations to sample, predicting the spatial spread of eDNA throughout a stream network, or trying to determine why a species was detected at one location and not another.
We provide innovative ways of displaying eDNA data alongside detection data from other sources in a custom mapping application. This helps our clients visualise and interrogate their eDNA data on a map. Visualising data in this way is critical for many reasons, including ground-truthing detections, forming hypotheses, and assessing spatial and temporal variability in results.
We design robust sampling frameworks based on your project objectives. Surveys and sampling regimes are expertly designed by our team. Using scientific data, these frameworks help enable an accurate assessment of site occupancy, or can help enable detection of changes in occupancy over time. Outputs of site occupancy-detection models, species distribution models, and/or statistical power analyses are combined with our database of historic eDNA detections to determine how many samples to collect, at which sites.
Site occupancy-detection modelling
We provide site-occupancy modelling that can be used to determine false negative and false positive probabilities of eDNA sampling. Our substantial database of eDNA detections is used to derive informative priors for these models, allowing us to fit models for species that would typically be too rare to include. These models can estimate:
Number of sites occupied by one or more species, after accounting for imperfect detection
Minimum number of samples needed to achieve a high probability of species detection
Minimum number of samples needed to capture total species richness (metabarcoding only)
Species distribution modelling
Distribution modelling combines species detection data with environmental variables to predict locations where species are likely to occur. They can be built (and/or validated) with eDNA data, as well as with data from more traditional methods. Examples of outputs include:
Predicted distribution maps suitable for environmental risk assessment or guiding future survey effort
Insight into the correlates of species distribution patterns
Discover the suite of biodiversity metrics that can be used to compare the biodiversity value of your sites. We deliver biodiversity metrics derived from eDNA data and the number of sites occupied by each species. Examples of these metrics include native, threatened and exotic species richness, endemism, number of 'new' detections, and number of occupied sites. These are important metrics that can help enable identification of sites in need of management intervention.