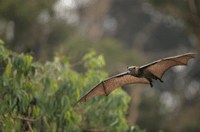 All animals leave scats (faeces) in their environment and each scat has a genetic clue that tells us what that species is and what it's been preying on. If you are looking to identify a species from scat, find out the diet of a species of interest, or even as an innovative way of detecting species in a region if they have been predator prey. We can help you with the below types of eDNA scat analysis.
---
We work with Cesar Australia to identify species from scat. From the DNA, we use testing techniques (qPCR, sequencing, SNP or microsatellite analysis) to accurately identify the species, the individual and often, its sex. This service provides a non-invasive method for sampling wildlife where the species does not need to be captured to take a genetic sample.
---
Our team conducts species diet analysis studies using eDNA metabarcoding. We analyse scat samples by extracting DNA and identifying taxonomic groups and species present in the sample. These methods produce comprehensive data sets that increase understanding about diet and health of species. For more information, this case study investigates diet of foxes with a particular interest in the presence of migratory shorebird species.
---