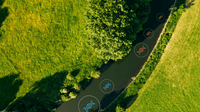 SourceDNA uses eDNA technology (qPCR and metabarcoding) to provide a system to rapidly, safely and cost-effectively identify and track contamination in aquatic environments. This application detects both indicator bacteria and potential source species (e.g. livestock, human) DNA to identify the possible cause of contamination. SourceDNA can be integrated into your monitoring for an early indicator of microbes of concern by identifying high impact zones that can inform management and investment priorities.
---
Determine contaminated "impact" zones across whole catchments and waterways near urban, industrial or agricultural areas to inform management and investment decisions.

Assess biological risks (including human health and ecosystem function) through identification of microbes of concern, and their potential source.

Undertake impact assessments and quantify effects of management interventions in contaminated aquatic systems.

Monitor pre and post discharge to waterways to assess any potential contamination, determine risk and inform management.