10 June 2021
New eco-look for our eDNA kits!
'Do Good for the Environment' is one of our core values at EnviroDNA, and it's something that we strive for not only in our projects but also how we operate as a company. We want to leave our environmental footprint as small as possible, and one of the ways we aim to this is by reducing our contribution to landfill.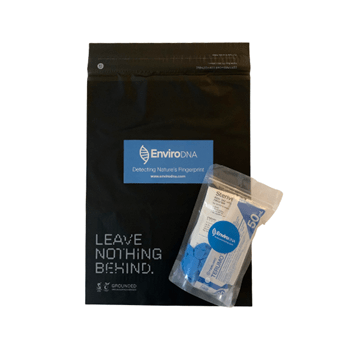 Our eDNA kits have undergone some eco-friendly updates! With help from sustainable packaging specialists Grounded Packaging and No Issue, they will now be packaged and sent using:
100% certified home compostable mailer bags
BioPE Recyclable zip lock pouches (made from plants)
FSC certified compostable stickers
This packaging provides a great alternative to the traditional plastic varieties that had been used previously. Now, when clients send us back their eDNA samples, they will do so using a mailer bag that is fully home compostable and will be utilised by our team!

The zip lock pouches containing filters, syringes, and gloves, are now fully recyclable and made from plants. Although small, these are very welcome changes, as they help us to minimise our use of plastic materials and the impact we have on landfill.
Our eDNA kits enable a simple water sampling method that is of the highest standard for avoiding contamination and minimising sample degradation. This method is designed so that anyone can sample for eDNA with limited training or experience, making it ideal for either a citizen science project or for an environmental professional. What exactly do they include? Find out here.
Interested in this method of eDNA sampling?
If you are interested in purchasing eDNA kits for an upcoming project, contact us! Our services including targeted species detection and biodiversity assessments can be implemented using this simple method. Based on your project needs, our team of experts can advise you on how to place an order and provide a quote for laboratory analysis of samples.
---