10 March 2021
World-leading wildlife DNA sampling equipment readily available in Australia & New Zealand

Environmental managers, researchers and citizen scientists gain access to innovative environmental DNA sampling equipment with announcement of EnviroDNA and Smith-Root partnership.
---
EnviroDNA provides leading solutions for innovative DNA-based wildlife surveys and biodiversity monitoring. The team of scientists detect wildlife by finding traces of their DNA left behind in environmental samples such as water from rivers and wetlands. This is called environmental DNA (eDNA). eDNA is revolutionising how environmental professionals detect native and invasive wildlife.
The first step to capturing an eDNA sample is to filter water ready for genetic analysis in the lab. EnviroDNA has formed a partnership with Smith-Root Inc. as an exclusive distributor of state-of-the-art eDNA filtering and sampling equipment. This partnership will enable Australian and New Zealand environmental professionals to easily access world-class sampling solutions.
Managing Director of EnviroDNA, Helen Barclay, notes that it's a partnership that will help the adoption of eDNA technology in important industries like biosecurity and conservation.
"Despite the ever-increasing number of organisations using eDNA, we are still in the early adoption phase of this technology. The fact that a world leading aquatic research firm has developed eDNA sampling systems is a sign to industry that this technology is relevant right now for wildlife detection and monitoring." Helen says.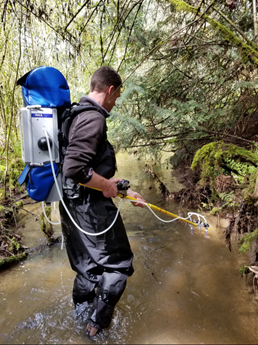 Smith-Root products are manufactured in the U.S.A and developed by scientists and engineers dedicated to producing high-quality aquatic research systems.
Senior research scientist at Smith-Root, Austen Thomas, states "Smith-Root is proud to be represented by EnviroDNA in Australia. As industry leaders in eDNA laboratory services and protocol development, they are uniquely poised to offer excellent customer service and technical expertise. The Smith-Root eDNA Sampler product line is in good hands with EnviroDNA."
The equipment in the Smith-Root range includes eDNA water samplers and accessories such as eDNA water filters. These products optimise the eDNA sampling experience by improving efficiency, lowering contamination risk and help to maximise the opportunity for eDNA wildlife detection.
Once samples are collected at water ways, EnviroDNA offers services to undertakes analysis in its molecular genetics laboratory to screen for native or invasive wildlife as well as biodiversity assessments.
EnviroDNA strives to help organisations detect native and invasive species with greater ease and sensitivity. Offering quality Smith-Root eDNA sampling equipment is another way EnviroDNA can support industry in its adoption of innovative eDNA wildlife detection.
---
---
---
---