19 November 2020
Searching for Tasmanian Tiger (...DNA, that is!)
EnviroDNA offers innovative methods of wildlife detection using an approach known as environmental DNA (eDNA). eDNA refers to the traces of DNA that all living creatures leave in the environment through the shedding of skin cells, scales, hair and other bodily secretions. By detecting eDNA, scientists can discover what species may be present in an environment.
Working with a range of industries across Australia, EnviroDNA helps to detect species of interest and aims to improve environmental management outcomes for wildlife and ecosystems. Amongst the usual list of native or invasive species we are approached with, the Tasmanian tiger or thylacine, officially deemed extinct in 1982 by the International Union for Conservation of Nature (IUCN), had not previously been one of them.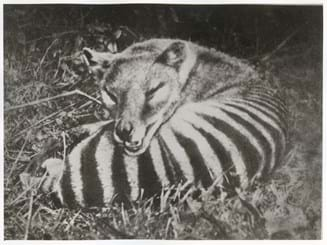 Unlikely customer of EnviroDNA's services, Michael Moss, has spent many years searching for evidence of thylacines still alive in the wild today. Thylacines were one of the largest carnivorous Australian marsupials to survive into modern times and were once broadly distributed. The species suffered considerably from hunting as well as other factors such as disease and habitat loss. Populations declined, and the last known thylacine died in captivity in 1936.
EnviroDNA understands and acknowledges the extinct listing of this species. However, the opportunity to explore DNA from one of Australia's most iconic and sadly lost creatures, sparked the team's curiosity to take this project on. ­

Before Moss can sample for thylacine DNA in the field, our team had to develop a DNA probe to enable eDNA testing. EnviroDNA Scientist, Dr Sue Song explains that 'by leveraging genetic data from a public repository, we can create a probe for the extinct species. Amazing research done by the University of Melbourne and international groups, mapped out the species' genome, using a 108-year-old preserved thylacine pup (Feigin et al 2018). Without the contribution of this data, development of a probe wouldn't have been possible.'

As a positive control to test that the probe works, Moss sent a thylacine hair sample obtained from a museum specimen to EnviroDNA's laboratory. Subsequently, our team was successful in obtaining a positive signal from DNA extracted from the hair sample using the newly created probe.

This means that the probe could potentially detect traces of thylacine DNA in the wild, sparkin­­g Moss' hope of one day finding a living Tasmanian tiger.
The probe is yet to be in-field tested and its' field sensitivity is difficult to establish. However, for those with a particularly open mind, the thylacine will soon be joining the list of available wildlife eDNA tests at EnviroDNA.
---
By Jacquie Murphy, EnviroDNA
---
---
---
---