May 4 2021
Upcoming eDNA Webinar - May 2021
---
---
Join us for an upcoming webinar we are hosting this month, covering the topic:
How to Detect Wildlife Biodiversity around Waterways using Cutting-Edge eDNA Technology
Date: Tuesday 11 May
Time: 12:30-1.30 PM AEST including time for Q&A
FREE to attend!
Learn about how you can use eDNA to map wildlife biodiversity in and around waterways - including, a 101 introduction to what it's all about and how you can apply these methods. Whether you are an environmental professional or a citizen scientist, this webinar presents a valuable opportunity to discover how you can utilise innovative genetic tools and expand your wildlife detection toolkit.
You'll be hearing from wildlife ecologist, platypus guru and eDNA expert, Josh Griffiths - EnviroDNA Program Manager Aquatic & Field Ecology.
PLUS, those attending this webinar have the opportunity to join a bulk eDNA sample run in June that will offer processing biodiversity samples at a discounted rate.
---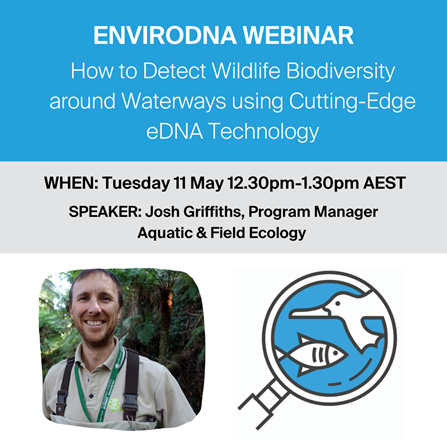 ---