25 September 2020
Welcome to the team!
---
The EnviroDNA team continues to grow and we are so excited. During these unique times of meetings on Zoom and virtual coffee catch ups, we feel so lucky to have you join us. A very warm welcome to our newest team members:
Farley Connelly
Program Officer - Aquatic & Field Ecology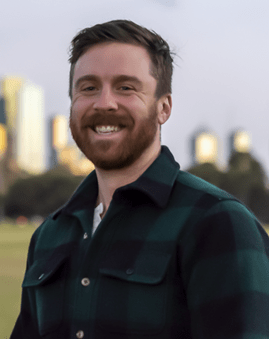 Farley brings a love of wildlife to EnviroDNA and is our resident bird expert – he is a twitcher! He spends most of his time outdoors and enjoys nothing more than hiking with his binoculars identifying all the birds he can find. Working in the field for most of his career has given Farley many opportunities to become enamoured with birds and their behaviours. This sparked his motivation to undertake his PhD in Australia. Originally from the USA, Farley now knows a lot more than most about the Australian magpie. His thesis investigated the effect of urban pollution on this iconic species.
Beyond our feathery friends Farley has a breadth of background studying and working with wildlife species. He spent his undergraduate university years researching animals ranging from frogs to sea lions. In his early career he worked as a wildlife biologist in San Francisco for several years, protecting California's threatened species. More recently in Melbourne, Farley has spent many a night tracking down another of our iconic species, the platypus.
At EnviroDNA, Farley is committed to protecting wildlife from human impacts and finding innovative techniques to utilise eDNA, such as applying eDNA for terrestrial species. With a broad skill set in wildlife, aquatic and field ecology, Farley helps our clients by designing and managing eDNA projects and undertaking eDNA sampling. Outside of work, you might find him exploring Melbourne or down along the surf coast, lounging beach side with his dog Puddy (and watching birds of course!).
---
---
Got any questions? If you'd like to reach out to Farley or have any questions about his work at EnviroDNA, he can be contacted via email at: fconnelly@envirodna.com
For more information on our amazing team members, check out Our Team page.